Discussion in the Game of the Week threads has been low lately, so it's time for a popular game! And it doesn't get much more popular than this.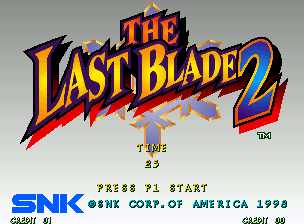 As another step towards increasing the amount of discussion I've eliminated the poll this week. Seems more often than not people are looking for the poll choice that best suits their opinion instead of actually telling us their opinion! If you hate me for doing this (or if you understand but still want the poll back) please let me know with a comment to this news post and not in the actual discussion thread. That way we can keep the discussion thread on topic. Thanks!
Oh, and High Score Challenge. Be there or be less awesome than the rest of us.
The Last Blade 2 Discussion Thread -->
The Last Blade 2 High Score Challenge Thread -->