Super Dodge Ball came up victorious in our recent Game of the Week poll. It is one of very few NeoGeo games to never be officially released in Japan, although if you have a Japanese BIOS the game still displays Japanese.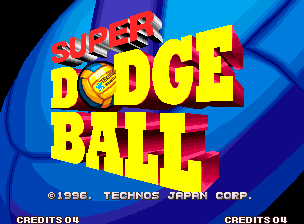 Sorry I was a bit late this week. Time kinda got away from me. If you're a fan of the game we'd love to have you in the High Score Challenge! Unlike me, Priest actually posted his thread on time!
Super Dodge Ball Discussion Thread -->
Super Dodge Ball High Score Challenge -->
And if dodge ball isn't your thing, this week there is an extra High Score Challenge! That's right, two for the price of one! Priest must really love you, eh? The second HSC is for the NeoGeo classic, Thrash Rally!
Thrash Rally High Score Challenge -->