Not long after the surprise release of the long lost prototype game by Visco 'Bang Bang Busters' comes the exciting news of two more Neo Geo releases from Neo Conception.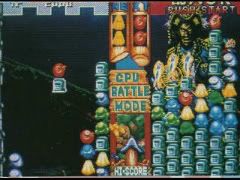 First up is Treasure of the Caribbean by Face the developer behind Money Idol Exchanger. It's a pirate themed puzzle game featuring three playable characters in story mode and eleven in VS mode. Unusually there's also a two player co-op mode. The release is limited to 150 AES carts and 50 MVS carts. A Neo Geo CD version will follow in December.
QP (Quality People) by Success is scheduled for release in 2012. Gameplay seems to consist of various mini games with perhaps a quiz element too. Looks to be quite a unique title in the Neo Geo library. The Tendou sisters Tomo and Megu appear to be the main characters.
Thanks to
Murikov
for the heads up on Treasure of the Caribbean.
Treasure of the Caribbean Discussion Thread -->
Neo Conception on Facebook -->
Neo Conception on Twitter -->